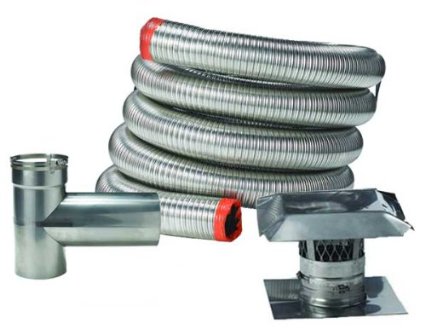 A chimney liner is used to extend the life of your chimney while reducing the risk of any combustion within your home.
Chimney liners are used to provide a smooth surface which carries the products of combustion outside the home. The liner can be made of clay, ceramic, or even metal conduit. The liner protects the chimney from heat and soot build up. The type of liner you need varies based on your chimney.
Better Air Quality
A lot of people do not use their fireplaces because of the impact it has on air quality in the home.  A chimney liner significantly increases how well your chimney vents combustibles to the outside. The improved air quality will have you wanting to use your chimney more than ever.
Getting Your Chimney Assessed
If you don't have much experience with chimneys or wood burning fireplaces, then you definitely want to consult with an an expert from the very beginning. For safety reasons, getting your chimney inspected when you first move into an older home is a good idea. In fact, if you are considering purchasing a home then be sure to ask about the condition of the chimney because you may be able to get repairs included in your offer price.
A UL Listed or UL Standard Chimney Liner is an Investment
Chimney liners should be UL listed or at least made to UL standards. This ensures that your liner is safe and up to modern standards.
 Stainless Steel Liners
 Stainless steel liners are usually made of 316Ti grade because it can stand up to the combustion byproducts and associated corrosion. This helps your chimney liner last longer.
Insulated Liners are Best
An insulated chimney liner is best for any fireplace or heating system although it is not required for gas or oil. Different grades of liners are available ranging from light to heavy.
Contact Fireside Chimney Supply to get the best chimney liner.