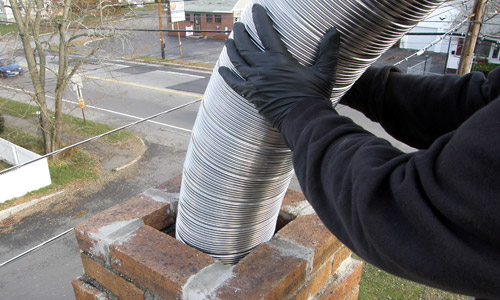 The cost of relining a chimney varies. Typically, the cost can be anything between $2,500 and $7,000. Ultimately the cost will be determined by the type of lining you would want to have installed. Knowing what lining is can help you understand the cost involved.
Types of Chimney Liners
Surprisingly, if you live in an old home, the chimney might not have a lining of any kind! For several decades, liners have been a constant requirement for operating fireplaces. This is attributed to the fact that they do a better job of channeling gases up through the chimney top. Houses that lack a liner will not be able to do this effectively. The liners also help in fire prevention by blocking heat from getting to materials that are combustible. The types of liners are:
Clay Tile Liners
The least costly liners are clay tile flues. Maybe that is why they are a traditional favorite. If it is installed properly, this particular type of lining may last for more than five decades! The only maintenance required in this case is regular cleaning. Their advantage is withstanding deposits and heat of corrosive byproducts when you burn all types of fuel.
Cast-in-place
Poured-cement processes causing cast-in-place liners can create a new flue. Such flues will be able to withstand all harmful effects of acids, condensation, and heat. Cast-in-place flues offer excellent insulation properties while helping the fireplace burn cleaner. This in turn reduces accumulation of creosote.
Metal Flue
Preferred by many installers and recommended by fire-protection experts are stainless steel flue liners. One of the reasons they are popular is their durability. There are other types of metal liners in this category. However, none of them come as highly recommended as stainless steel.
These flues come in rigid and flexible formats. Installation and cost of stainless steel liners is a very good investment that will help to maintain a safe and well functioning fireplace. The type of chimney liner you can afford or is best for your building will determine the cost you will incur to reline a chimney.