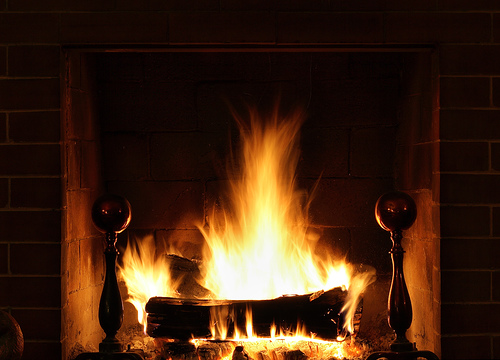 For generations, the fireplace has been the staple in many homes - especially around the holidays. Back in the day, the fireplace, or even just a simple fire pit, had a sense of community and safety around it, which still carries through today. The fireplace is that one part of the home where you all gather around and enjoy each other's company - of course, the kitchen is also good for that, but does anyone really talk while they're essentially inhaling the holiday feast? Probably not.
When you walk into a home, the fireplace is one of the first things you notice - whether it's the decoration around the mantle, or the lit fire, itself - it's something that draws your eye. However, if you feel as though you could utilize your fireplace space better, then we - at Fireside Chimney - are here to help.
Updating The Fireplace Space
When you choose to update your fireplace space, it can either be a large project or a small one. However, that all depends on what you're looking to do to the space. We've compiled a list of easy re-designs to the well, not-so easy ones.
Decorations. Decorating the mantle is one of the easiest and most affordable ways to give your fireplace a newer and different look. Of course, you change your mantle decorations in correlation with the holidays, but during the other months, you can convert it to a bookshelf or add seasonal flowers. Rather than giving your guests just an empty fireplace to look at, covering it with photos, books, and flowers can distract from any potential boring brick that it's mounted on.
Adding Paint. If simply giving your fireplace a good cleaning - with the proper cleaning supplies - doesn't do the trick, then adding a new layer of paint along your wooden mantle can really brighten up the room. Even if you choose to use the same color, or if you simply stain the wood, it can add more to the area than was there before. Plus, overtime - your paint will begin to fade, especially around the heat of the fireplace so, it may be best if you just keep up with repainting your mantle every year or so to ensure it doesn't look faded.
Add Some Detail. Adding architectural detail is a bigger project than simple adding a new layer of paint therefore, you may want to invest in a fireplace/chimney contractor. Whether you add more detail along the sides of the fireplace, or if you install a new mantle, any contractor - such as Fireside Chimney, can help you get the job done at an affordable price, making your fireplace the real center piece of your living room rather than the television.
Re-Do The Whole Thing. This is not a job you want to do on your own, because we're talking a full fireplace remodel.  Invest in some contractors who specialize in fireplace redesigns - that way, whether you add limestone around the fireplace, or some type of marble or wood, it will be installed properly and not shift overtime and crack as some often do.
Investing In Fireplace Contractors
When you invest in a contractor who specializes in the aspect of your home you're choosing to redesign, you're making a good purchase. When you choose fireplace contractors such as Fireside Chimney, we supply to the do-it-yourselfers, and we're also more than capable of installing our new fireplace for you. So, if you've been considering remodeling your fireplace, Fireside Chimney is the right place to call.